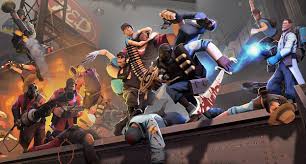 How to Make Money Selling TF2 Items
If you're just starting exploring the world of Team Fortress 2, here is a little something that might get your attention. It's possible to play the game and have some fun and still manage to earn some money along the way.
How?
The answer is pretty simple – by earning valuable TF2 items that you can sell later on. TF2 is a well-known first-person shooter game in the gaming community. Developed and launched by Valve, this multiplayer FPS action is loaded with everything you need to have a full gaming experience each and every time.
However, while the game offers plenty of action to keep your mind occupied, there are valuable items you can earn and sell for real cash. Let's see what it takes to earn and sell TF2 items in order to make some money.
How Items Works in TF2
Like many other well-respected FPS games in the gaming community, TF2 features various items and skins for a range of weapons that you can earn, use, or sell. This can be done using specialized official and third-party trading places and exchange markets that allow such service.
Players can use these items without disturbing their gameplay mechanics, while the items themselves don't offer any particular advantage to those who use them. Their nature is purely cosmetic, with the main purpose of simply adding to the appearance of specific in-game elements.
How to Earn Items
The best and most effective way to earn TF2 items is to play the game for an extensive period of time. In the beginning, these items are of very poor quality, and their worth is low. In other words, you won't get much if you try to sell them right away.
Fortunately, the game allows you to upgrade your account to premium, although it takes some effort to get there. The best way to start earning top-class items is to go for a premium account. The procedure to obtain it is simple.
Head over to the Mann Co. Store and purchase one item, which can be pretty much anything really since there are no regulations or price requirements. Simply purchase a $0.10 item of your choosing and get your premium account. You can also earn TF2 items by locating those cases that may appear here and there as you're advancing through the game.
However, keep in mind that you won't be able to open the cases and use the items if you don't previously purchase the keys from the Mann Co. Store. Keys are around $2.50. The third way would be to explore the third-party websites and the official market where you can buy and sell TF2 items. We recommend you check out a legitimate and safe trading platform like SkinCashier.
Ways you can Make Money by Selling
When it comes to making money by selling your TF2 items, you have a few options at your disposal. The most obvious one and probably the easiest is to head over to the official Steam-powered trading marketplace.
However, we have to mention some limitations that this option brings. A problem with this platform is that it doesn't allow you to sell your items for real money. In other words, you can't sell your TF2 items for real-life cash on this platform but rather a digital currency that you can only spend on the Steam platform.
This is a good option when you want to effectively and quickly buy more skins and items. If you don't want to trade but earn real money, the best way is to go through a third-party trading platform like SkinCashier.
Where to Sell TF2 Skins
If you want to earn some money by exchanging items in Team Fortress 2, the procedure is simple and works the same as for any other game out there. Think Dota 2, CS:GO, and so on.
If you want to trade, sell, or buy items on official trading platforms, markets and websites, simply head over to the marketplace of your choosing, create an account, choose the things you want to exchange, and follow the instructions to verify the transaction.
To sell TF2 items on websites like the SkinCashier, it takes a bit longer to complete the procedure, but it's quite simple, really. You will need a Steam account to trade on third-parties like the SkinCashier.
Connect your Steam account to the trading platform and receive your available selection of items you're free to trade, exchange or sell. Select the items you want to sell and use the confirmation button to seal the deal.
Crafting Items
Even though it's possible to get TF2 items for free, the options to do it are very limited. To be honest, there isn't much you can do but play the game and hope that luck favors you. If you use a VAC-protected server to play the game, you can expect to receive a new item after 50 minutes of playing.
It's also possible to craft your own items by running multiple games simultaneously to earn more items. However, Valve found a way to combat these forms of hacks. Each player will receive a notification each time an item is to make an appearance. If a player doesn't confirm they got the notification, they won't receive the item.
Conclusion
There you have it – your very own short guide to selling TF2 items for both real and digital currencies, as well as steps on how to earn and where to look for them. It's quite simple to earn and sell skins and in-game items.
To find out more about the in-game items and your options on what to do with them, we recommend that you pay a visit to the SkinCashier website, where you can find all the information you need to get ahead of the TF2 items and how to trade them.
Follow TodayTechnology for Latest Trending Technology News.