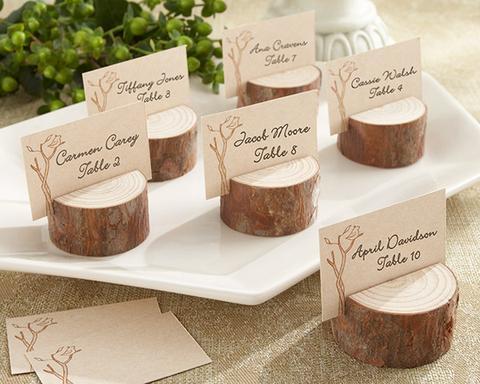 If there's one advice to dish out to all the potential brides and grooms out there, it would be about wedding favors. After planning, organizing, watching, and experiencing multiple weddings, the conclusion that can be drawn is, the more practical the wedding favor, the higher the chances of your guests bringing it back home.
What are wedding favors, anyway? Simply put, wedding favors are take-home mementos of your wedding. You want people to take it home! Practical favors are always a favorite, and guests will definitely bring home favors that can be used.
Why practical and environment-friendly? Well, why not? As we get closer and closer to a climate crisis, making small changes to reduce waste and our carbon footprint on earth is always a welcomed idea. If you're entering the marriage threshold, why not start reducing your carbon footprints by incorporating more eco-friendly and practical ideas?
Useful wedding favors guarantee that they don't go wasted or get thrown. When you give guests something they can use, the chances of them not throwing it away are higher than giving them something that looks pretty, but doesn't do much in being used for something or to help lessen the impact on earth.
There's definitely always a more sustainable, eco-friendly, and practical choice for the items we need for weddings. All it takes is a little bit of research to find out what sustainable alternatives are there, and how you can incorporate them beautifully into your own wedding.
1) Baked goodies
Have a family member who bakes well? Get them to bake some cookies, shortbread, or even fruit cakes. These hold up well for a longer period, and you can place them in etched mason jars tied up with a ribbon. Once the cookies have been eaten, the mason jars can still be used. This option isn't only practical. It's also delicious and will be a great treat for all your guests. Plus, you can skip out entirely on the dessert bar, and it will save you money since you're already giving guests a sweet treat to bite into.
2) Flip-flops
Flip-flops are fabulous favors for any wedding. While it's the number one choice for beach weddings, flip-flops work well for any wedding, especially one with a lot of dancing. Once the mains have been eaten, the cake has been cut, the speeches have been made, and the disco ball drops, it's time to kick off those heels and slip on comfortable flip-flops and dance the night away! Your guests will thank you.
3) Coffee mugs
Coffee mugs are an all-time favorite favor. Everyone uses them for coffee, tea, hot cocoa, and just about any beverage. If you're planning for a fall or winter wedding, coffee mugs are definitely a favor to consider. You can even add things inside the coffee mug, such as coffee powder, hot chocolate mix with marshmallows, biscotti, and even sugar or honey stir sticks. Coffee mugs are practical, sustainable, and fun!
4) Screenprinted tea towels
Who doesn't like tea towels? Tea towels with interesting details, quotes, or designs make for fantastic wedding favor and a practical item in a home. Beautifully designed tea towels made through screenprinting add a touch of the rustic element to the wedding. If you're looking out for suppliers who can help you materialize your vision, check out https://thrivescreenprinting.com/ . You can get in touch with a business specialist who can help you through the ordering and designing of your personalized tea towels. Arranging them to be picked up by guests is as easy as tying a ribbon around each tea towel and putting it on the tables of your guests. If you get the design just right, this can be a decorative element on the table as well.
5) Canvas bags
Canvas bags with the wedding details printed on the bag make excellent, practical, creative, and versatile favors! You can use them for grocery shopping or as a picnic bag – we all know the possibilities are endless. What's more, it comes as a convenient item, especially if you have guests from abroad. An extra bag would help in stashing last-minute souvenirs and gifts to take home.
6) Eco-friendly wedding favors
If you support eco-friendly ideas and would like to use them in your wedding, then this type of wedding favor is for you. You can give away succulents, mini flower pots, herb pots, and even mini jade plants (which are considered to bring luck and fortune). Have a favorite flower? Why not give away little bags of these seeds to your guest?
7) Hand sanitizer
With 2020 bringing in all sorts of 'new normal,' it's hardly surprising to have hand sanitizers as wedding favors. In fact, it's a welcome gesture. You can get customized bottles of hand sanitizer for your wedding guests as a favor to bring home. Chances are these bottles will find their way into handbags and in-car storage compartments for easy use. Your guests will also find it handy to have sanitizers available during the wedding to ensure everyone is safe, protected, and for fewer germs to spread.
8) Face masks
In the same vein of thought, face masks are also picking on the trend of practical wedding favors, thanks to the pandemic. It's especially useful to have face masks as favors considering the rules and restrictions for social events and functions. Get yours done in cool designs or quotes. Your guests will definitely find this useful!
Final Words
Regardless of your budget, there's definitely a favor you can choose to incorporate into your wedding that's practical and creative. Practical favors will bring value to your money, and you can be sure your guests will definitely bring it home and use them. Practical and eco-friendly favors take the environmental responsibility a step further in reducing waste. We can all do a tiny part to create a better future for the next generation, so why not start when you say, "I do"?