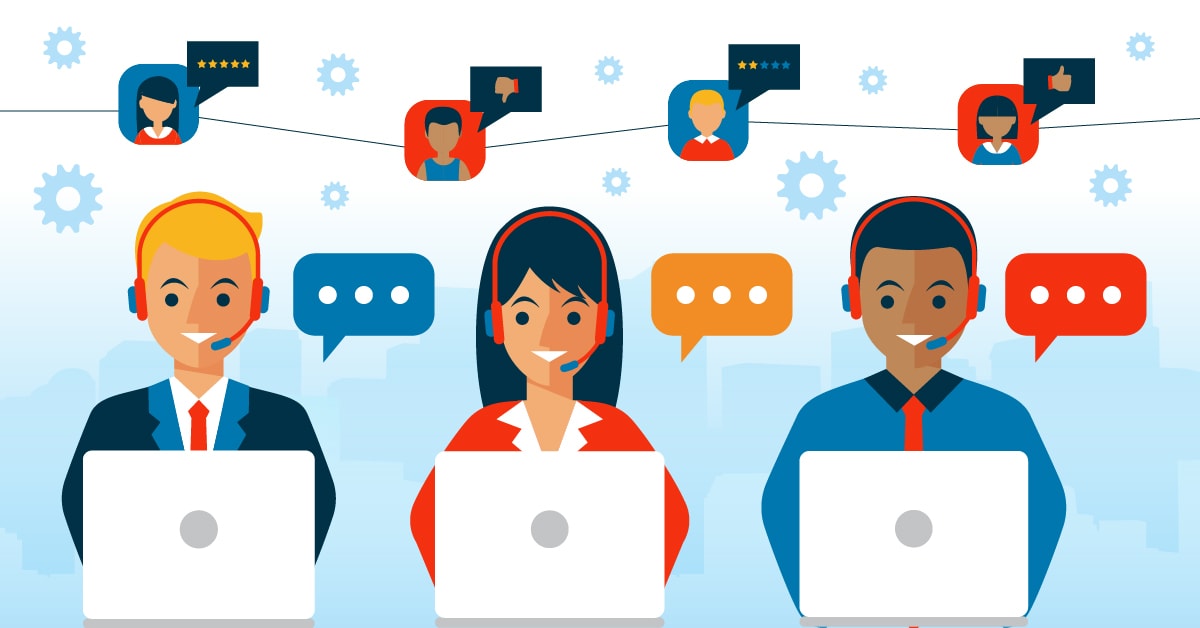 Customers are the most valuable asset of every business. That's why you need to keep your customer service at the highest level, regardless of your industry.
Happy customers equal happier employees, better ROI, more sales, increased revenue, boosted brand visibility, and enhanced brand reputation. Naturally, each business strives to make these benefits a reality, and taking care of customers is the only viable way of doing so.
If you're not sure how to improve your business's customer service, we've got you covered. This ultimate guide is filled with valuable tips and tricks for growing your customer base bigger and happier.
Top 6 tips for improving customer service
Implement advanced technologies
As brands close their doors to physical locations and open their virtual offices instead, various technologies proved to be useful for improving customer service. Besides ML (Machine Learning) and AI (Artificial Intelligence), many other advanced technologies gained popularity among online companies.
For example, CDPs (Customer Data Platforms) drastically change how a company does its business. A customer data platform is everything you need to unify all your customer data in one place, which you can later use to analyze for future projects.
Prioritize personalization
Today, all customers strive toward personalization. Whether that's a custom-made collection of favorite products or a small personalization detail on a phone case, customers greatly appreciate brands that want to get to know their customers and make an effort to provide them with a personalized experience.
Therefore, personalization is where it's at. Besides making your customers more satisfied, this process will enable you to learn everything you need to know about the likes and dislikes of your customers. That way, you'll know more about your target audience and what it wants to see from you next.
Personalization can be done in numerous ways, including:
Personalizing survey questions;
Geo-targeting customers to inform them about relevant offers;
Using previous purchases as the base for future recommendations;
Offering dynamic content established on unique personal preferences.
Improve your active listening
Customers want to be heard! Even if their recommendations aren't adopted, they feel much better about businesses that at least ask them about their opinions and show that they are valued. So, if your goal is to improve your customer service, one of the first things you should do is improve your active listening.
Working on active listening is a process, but you'll immediately be aware of its benefits. Start by listening to what your customer has to say. Then, ask for clarification if you didn't catch something. Finally, summarize your conversation by going over the main points. Active listening doesn't only bring you closer to your customers but also equips you with some outstanding ideas.
Use only positive language
Getting into an argument with a customer is never a good road to take when talking about the success and reputation of a business. Even if you know the customer isn't right, brands must do everything in their power to prevent the situation from escalating,
When you find yourself in a stressful situation, use only positive language. What do we mean by that? Avoid sentence structures that force you to use words such as no, don't, never, not, and so on. Instead, switch the conversation around by using only positive language, and your customers are more likely to relax too.
Empower your staff
Even though customer service focuses on the satisfaction of your customers, that doesn't mean you should neglect your employees. Since your workers are the ones who are in touch with your customers, making them happy is equally important.
Employees who are satisfied and empowered are more motivated to do their job right, so they'll pay more attention to customers, their needs, and requests.
Learn from mistakes
Finally, businesses are managed by real people. Therefore, you won't be able to find a flawless business. Each company makes a mistake from time to time, and that's okay.
However, when you do make a wrong call, it's crucial to admit your mistakes. That will allow your business to move forward immediately. Moreover, learning from previous mistakes will ensure you never make the same mistake twice.
Conclusion
Improving your company's customer service isn't something you can accomplish overnight. In fact, a lot of time and effort has to be invested to truly experience the difference. However, by following the tips and tricks mentioned in this post, you'll transform your business in no time.
Soon after, you'll enjoy the countless benefits of a happy and satisfied customer base.
Follow todaytechnology for more!