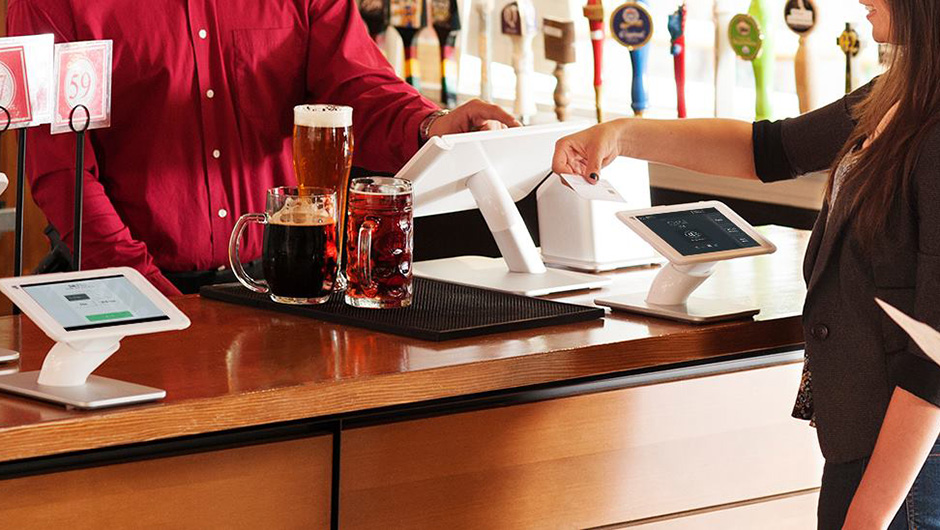 Create an unforgettable sales experience for your customers and employees. Whether you're operating a coffee shop or an auto shop, your POS system can make or break the sales experience. Learn all about the Clover Station POS system, from the proprietary pivot swivel arm to the secure processing technology. Learn more about credit card surcharge and other features before updating your POS system.
Convenient Touchscreen
It all starts with the touchscreen. A large, durable touchscreen and customizable display give you the freedom to create an efficient, easy-to-understand display for your employees or yourself. This speeds up the transaction step of your customers' experience to offer convenient purchasing. A convenient purchase is a memorable one that encourages repeat customers and loyal followers.
Once your employee rings up the order, through a barcode scanner or touchscreen items, the Clover Station has a dynamic pivot swivel arm to easily turn the screen around to the customer. This gives them a clear indication of the price of the transaction and allows them to safely enter their PIN, email address, a tip, and other information before turning the screen back to your employee. Use washable stylus pens to offer sanitary, contactless payment interactions.
Dynamic Payment Options
Cash, credit card, and mobile payment options are all available with the Clover Station. Allow your customer to use a preferred payment method for any transaction. The included cash drawer allows you to make change quickly and safely, while contactless mobile payment options are great for customers looking to reduce contact.
Sleek, Stylish Look
From screen to stand, the Clover Station is a thing of beauty. This compact, elegant device can elevate your counter or another payment area. Whether the sleek white lines match your business' minimalist look or add a sense of class to your down-to-earth coffee shop, the Clover Station is a great way to create a professional feel for your small business.
Affordable POS System
Compare prices today to find out how you can afford a Clover Station POS system. You may be paying more for your existing POS system, so cancel your costly payment plan and turn to an affordable, flexible system. Find out how you can receive discounted or free POS hardware to keep your working capital working for you.
Time-Saving Reporting Technology
Track orders, inventory, and time cards with a single, convenient device. The Clover Station uses Clover software, which makes it easy to track and report all of your essential business information from a single station. Add invoicing software to cut down on the time of creating detailed invoices for your customers. Choose your software wisely, as it can add or subtract hours of paperwork and other important details to keep your business running efficiently.
Update Your POS System With a Clover Station
Take your business to the next level with a payment system designed to meet your needs. Compare the Clover Station, Clover Flex, and other POS systems today to see which one is best for your business model. Update the look, safety, and convenience of your company with an affordable POS system.
---
For more informative articles, Check out my blog TodayTechnology