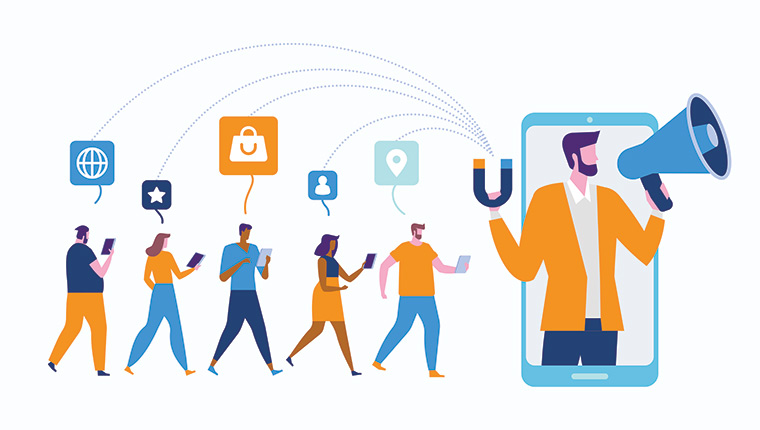 A couple of decades ago, we didn't have such a term, as an influencer in hints modern meaning. With the inciting popularity of social media, certain people managed to group others around a specific topic, lifestyle, or personal image. Now to become popular, you don't always have to be a singer, actor, or politician. It's enough to be present on different social platforms on the Internet, produce valuable content, and engage people in the way you think and live. In 2020 during the lockdown period, many people found it quite interesting to use social media, especially TikTok and Instagram more actively, and take advantage of it. This year can be easily called the year of nano influencers. They are bloggers with accounts on Instagram with a fewer number of followers, but more active engagement rates than the pages with numerous audiences. Nano influencers may have from 1k to 7k followers, but have a great potential to make money on Instagram and have active cooperation with brands and other sponsors. So, what are their secret? And why are they becoming even more attractive than the influencers with a cope of millions of users?
1. They are who they are
Always authentic, creative, and sincere, nano influencers establish a special type of connection with their audience. They raise up-to-date topics, share their thoughts and experience, and group others by the common ideas. There's no branding team behind their page, and in most cases, they even omit using the multiple filters for their pictures. They show who they exactly are. It's interesting, how significantly social media have changed the life of many people. They don't need to hide their thoughts and talents anymore and be afraid to get judged by the surrounding environment. On their profiles, they can be exactly who they are and be sure to get support from other people who think in the same way. The fewer number of followers predicts the possibility that nano influencers may know many of their followers personally. That's why their pages are very attractive for advertising cooperation due to the high audience engagement rates.
2. People trust them
In the means of advertising activity, nano influencers carefully choose the brands and products they are going to promote, as they are less financially oriented, and are aware of the risks to lose their audience in the case of lies and pretending. Followers feel they are much alike thief neighbors, school and college friends, or just the guys they hang out with on Friday nights. That's why people trust them, and it's a good sign for brands to choose them for advertising their products. Nano influencers value their audience, that's why they will think twice before suggesting a product they are not sure in because it's the same as giving a cream you found bad to your mom or the best friend. Besides, fewer followers, in general, can become a signal for the audience this person is not looking for hype, he/she is far from acting and betrayal.
3. Cooperation with them is efficient
As it was mentioned, nano influencers are not focused on income in most cases. According to recent researches, many famous influencers with quite a big audience of 100k and more have quite high prices for the sponsored posts, which makes their services approximately unaffordable for many small companies and individuals. That's why people who are looking for quick ROI, and high endorsement of the product by small groups of audience, the cooperation with nano influencers will be the best choice. The other point necessary to mention, it that advertising with nano influencers may be more direct, as the audience following them is even and often represent the people with common interests, ages, and social background. For example, there are niche products that are inefficient to be promoted to a mass market as they need the special cultural and consuming background to be purchased. For example, vegan products are easier to promote via nap influencers who are also vegans, and the majority of their audience also follow this kind of lifestyle. That is why there is an emerging number of smaller brands looking to promote their products this way. You can even find services, such as inBeat Agency, that focus on helping these brands partner up with thousands of micro-influencers across TikTok, Instagram, or Youtube.
4. Perfect to become a brand ambassador
Both, bigger and smaller companies find it very hard to choose a proper brand representative. But finally, with the appearance of nano influencers, there are a lot of opportunities for brands to find not only one, but a group of ambassadors. In most cases, brands can discover nano influencers, and become the only company in the industry and specific location whose products are advertised by the certain nano influencer.  Among the cons of cooperating, the lack of experience of nano influencers can be mentioned. They often haven't cooperated not only with your competitors but with any other sponsor. So, this attractive blue ocean with a lot of ways to form a new demand for your products needs instructions and teaching how things are done. But under the professional supervision of the brand, they can easily promote products to a high-quality audience and become the product/company representative in the long-term perspective.
5. Their topics are easy to recognize
Nano influencers are the representatives of their era when there are a lot of life hacks and instructions on how to organize an Instagram profile. So, it takes them less time to make their page understandable for the audience than in previous times. They know how to design an effective bio and tell about themselves more with a smaller amount of text. Fortunately, now bloggers don't have to choose only one URL to be linked in bio, as with the help of multi-link organizers, e.g. linkpeak.io, they can provide as many ways for connecting with the audience as possible. So, if the company, producing some goods for kind, see the profile with such bio, as Lena, mother of two, with the link to her podcast or YouTube page, that can easily estimate this blogger and on the base of her profile make a decision about cooperation. Hashtags they use will also help companies define the main orientation and purpose of the blog.
Check out my blog, for further informative articles, TodayTechnology