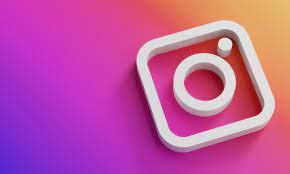 Instagram is revolutionizing the e-commerce narrative. Do you know that as a business, you can now bring your shopping aisles to your timelines? And this is all thanks to the shoppable posts feature that Instagram recently introduced.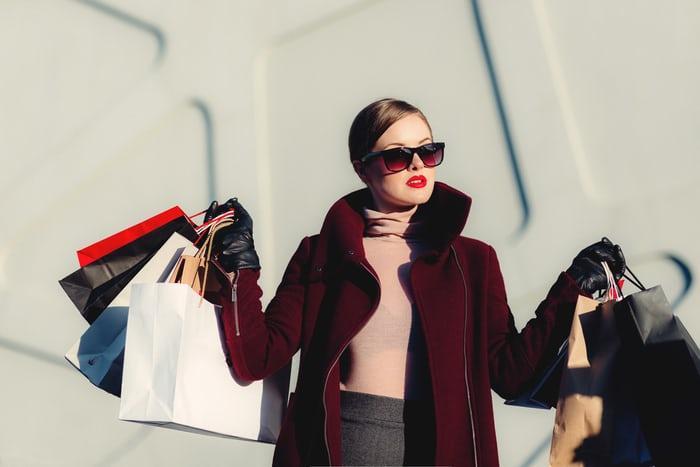 Image source: Unsplash
Shoppable posts are posts that carry product tags. Meanwhile, these product tags will help users in the following ways:
See product details.
Make purchases directly on Instagram with Instagram checkout and
Visit the brands' shopping websites.
With Shoppable posts, business owners and creators can tag products in their feed posts to their product catalogue.
Currently, Instagram Shoppable posts are available to Business accounts in 46 approved countries. However, Instagram Checkout is available to US businesses only.
If you are not quite sure of what Shoppable posts can do for your business, read on to learn about some of their benefits.
Why Your Business Needs Shoppable Posts
Comfortable shopping experience
Using shoppable posts creates a level of comfort that many customers appreciate. Both business owners and their customers can do business without the trouble of a physical meeting. It also allows you to offer quality customer service experience to your buyers.
More interestingly, your customers can even save products and come back to make a purchase when they are ready. The fact that people get to do business without leaving their comfort zones is a blessing that Instagram shopping features afford.
Products and services are easy to find
Sometimes, people can't buy a product they like because there's no link to the seller. A Shoppable post is a solution to that problem. You will be making your products and services easily accessible when you take advantage of the shopping update.
Wider audience, more sales
So many people are on Instagram and the number of active users is on the rise. Research shows that 130 million Instagram users tap on shopping posts every month. This means that you can reach more people with shoppable posts and soon convert your wide audience to sales.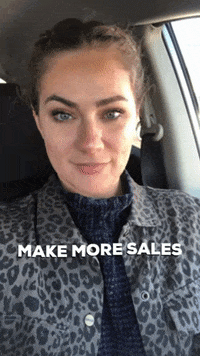 GIF from Giphy
Requirements For Making Shoppable Posts
In June 2020, Instagram announced its new commerce eligibility requirements. They stated that these requirements will provide greater transparency for people and businesses while offering better shopping experiences. Here are the prerequisites:
You must comply with Instagram's terms of use and community guidelines.
Your business account must be located in Instagram's supported market.
Your business account must include product listings that are available for direct purchase from your website.
You must demonstrate trustworthiness and authenticity as a brand. Many customers are looking for credibility and once you can provide that, you'll get more followers and likes.
You must provide valid information and follow best practices.
Image source: Instagram| @ellapcobb
How To Make A Shoppable Post
Step 1: Switch to the Instagram business account: If you are using a personal account, you'll need to switch to a professional or business account. You can do this via the in-app settings.
Step 2: Connect to your Facebook page
You can connect to your Facebook page through your Instagram account. You don't need a Facebook shop page for this. Here's how to do it.
Go to your Instagram business profile
Choose Edit Profile
Select Page under Public Business Information
Select the Facebook page you want to connect to and click Done (If you don't have a Facebook page select Create a new Facebook page)
Step 3: Upload product to your Facebook page catalogue
A catalogue is a section that contains all the items you want to sell or advertise on Instagram. Your catalogue should have visually pleasing photos of your product.
There are many ways to upload your products to your catalogue.
Via Commerce manager: Add your items to your Facebook page's catalogues, and then the products will be automatically added to your Instagram account.
You can add items manually through your Instagram app. Ensure that your Instagram account is connected to the catalogue and has permission to manage it.
Go to your shop and tap the hamburger menu in the top right.
Tap Manage products, then Add New.
Add an image for the item that you want to sell. Images need to be at least 500 x 500 pixels.
Type in the name, description and other details for your item.
Tap Save to add your item to the catalogue
You can also add items from a partner platform. An example is Shopify.
The fourth way is through Catalog Batch API.
Step 4: Submit your account for review
After following the aforementioned steps, submit your account for review and approval by Instagram. You may have to wait for a few days or longer. Once you have approval, you'll get a notification about it.
To submit your account for a review:
Go to your business profile and select settings.
Select Business.
Sign up for Shopping and follow the prompts to submit your account for review.
Step 5: Enable the Shopping feature
Congrats! Now that your account has been approved, you can activate the shopping feature.
Go to your business page and select Settings
Choose Business and then Shopping.
Select the product catalogue you want to link to create an account and tap Done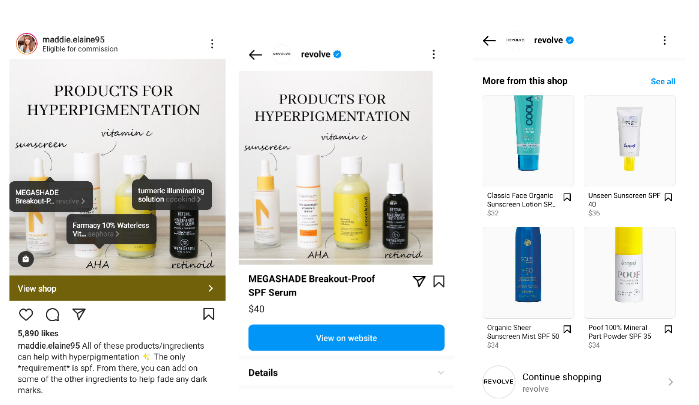 Image source: Instagram| @maddie.elaine95
Step 6: Create shoppable Instagram posts
You can create a new shoppable post or edit and add tags to an already existing post. It's quite an easy process:
Launch your Instagram app, tap on the "+" icon in the top right corner of the screen and select post.
Choose a photo of the product(s) you want to tag and edit if necessary.
Add caption, location, etc
Tap on the Tag Product button to reveal all the items in your catalogue. You can search for products using their names.
Tap any spot on the photo to place your tag and Tap Done. You can move product tags by dragging them on the screen.
Proceed to make your post.
Note that: You can tag up to 5 products on a normal Instagram post and 20 products on a carousel post.
Tips for Promoting Your Shoppable Posts
User-generated contents are social proof and will serve as good reviews to convince your audience.
Offering discounts and special promotions will draw the attention of your target audience. You can offer discounts during festive seasons or holidays. Put a time limit to create urgency and make people rush your offers.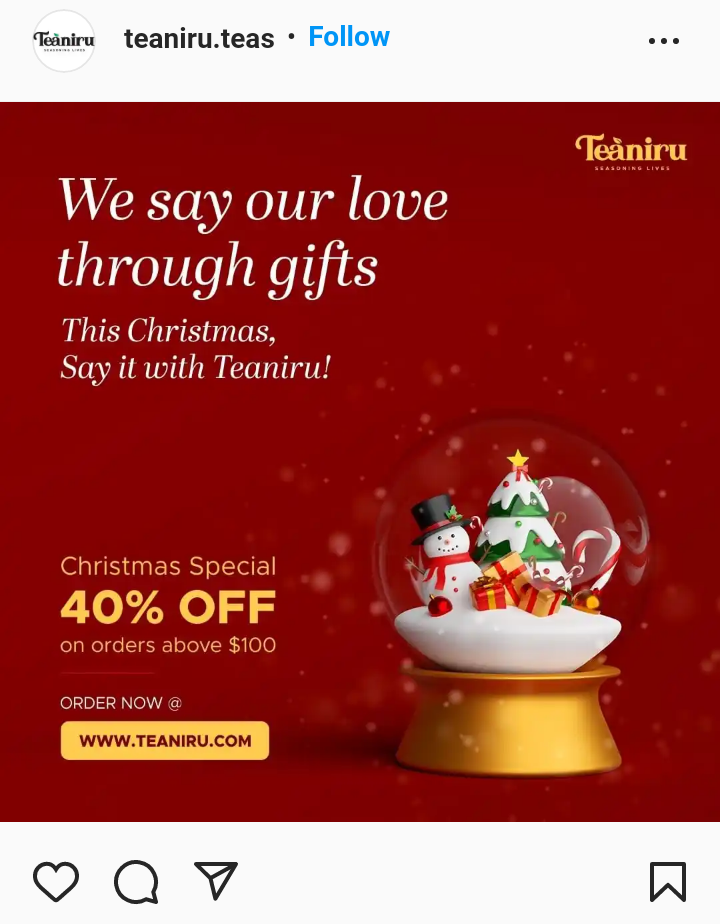 Image source: Instagram| @teaniru.teas
Use videos to showcase Products
Videos are an incredible way to show your product details within a short time. You can make videos showing how to use your products. For example, if your brand is a skincare brand, you can make a video showing your skincare routine or how to use a product.
Partner with other brands and creators:
Partner with other brands or creators to increase your reach. Joint product releases, affiliate marketing and product shoutouts are examples of great partnership ideas.
Use other shopping features
It will interest you to know that shoppable feed posts are not the only way to use product tags. Other options are Instagram stories, IGTV, Instagram Live, and Instagram Reels. Using these other features will present your products to more people beyond your followers.
Hashtags increase engagement mostly because they are clickable. They will lead people to a pool of your content especially when you use branded hashtags. When next you make a shoppable post, do add some hashtags.
Final Thoughts
It's a great time to be alive! In today's business world, there's ample opportunity to make sales and be at the top of your niche.
Including shoppable posts in your Instagram marketing will increase your organic reach and make you more money.
Jump into the ship of shoppable posts and sail away to the best e-commerce experience.
Follow TodayTechnology for more!