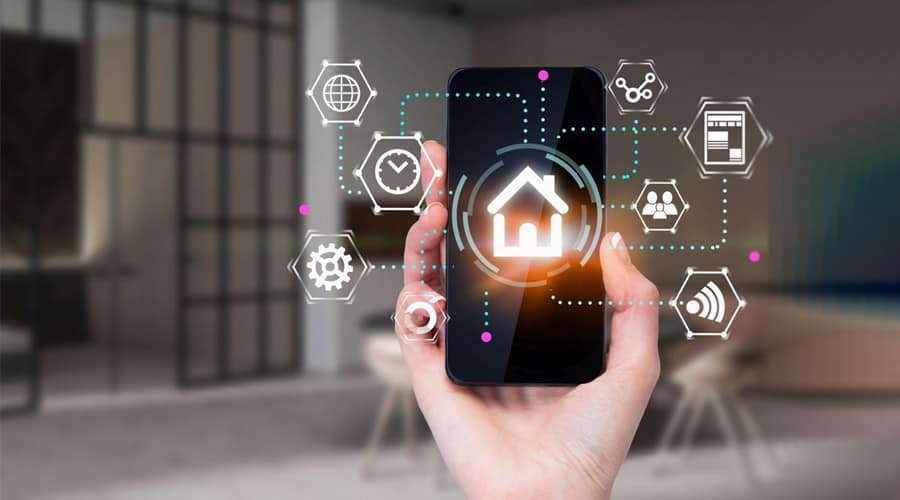 You've probably heard the term "smart home" at some point, whether from surfing on the internet or increasingly heard on TV and in movies. But what, exactly, is a smart home? A part of the internet of things (IoT), a smart home refers to a residence that utilizes smart devices and systems that are connected to the internet, such as temperature control and lighting. These devices and systems can be remotely monitored and managed via the use of apps on a smartphone or tablet.
Smart home devices and systems are increasingly being recognized by many homeowners for their ability to provide convenience and comfort in their homes, as well as better energy efficiency and cost savings. Many off-plan projects such as JQ Rise have smart technologies due to be built in ready for when you move in. Most of these devices and systems can communicate and operate with each other, sharing data among themselves and automating actions in accordance with what the user wants and even habits.
Smart Home Technologies
There are now many smart home technologies on the market, including upgrades and added features, with new ones coming every week. The internet of things is moving in the direction of leaving no home appliance left behind – even the dustbins, recycling bins, and kitchen cupboards will be connected to the smart grid eventually. Soon, our homes will know us better than we do.
The most common ones currently being used by countless homes include:
Smart TVs connect via the internet and can access paid movie and music content. They have now started to incorporate technology like voice and gesture recognition.
Smart lighting systems and bulbs can detect when homeowners are in a room and adjust to their preferences, or even adjust to daylight availability. These devices and systems can be accessed and controlled remotely and be adapted to how the user preserves to interface with them.
Smart thermostats are particularly popular with many homeowners as they offer unparalleled convenience and comfort. These devices have built-in wi-fi capability and allow you to remotely control home climate settings and set schedules. Smart thermostats can also monitor occupancy behavior and adjust based on preferences.
Smart locks technology has come a long way; they enable users to allow other people entry, or to deny them. They can also detect when the homeowner is close by and have the door already unlocked for them when they go to open it.
Pet care feeders can now be automated with smart technology, as well as watering the garden and plants.
Smart kitchen appliances and devices cover virtually everything in the kitchen, including toasters, kettles, fridges and freezers, coffee makers, slow cookers, washing machines, and tumble dryers. Refrigerators, for example, can monitor expiration dates and automatically create shopping lists. Incredibly, they can even devise recipes based on the contents of the fridge, which is a useful feature to cut back on food waste.
The Pros And Cons Of Smart Home Technologies
Without a doubt, the greatest benefit of smart home technologies is the ease with which users can access their home devices and systems remotely, affording a high level of comfort and peace of mind. Previously, you could be at work worrying if you left the coffee maker on or locked the door before leaving. Smart technologies allow you to check if this is the case.
For the elderly and disabled, vivint smart home technologies are especially useful in giving them more autonomy and making it less likely that a nursing home will be necessary. If you have an elderly relative that you worry about living on their own, you can dial in and check on them with cameras and even talk with them via two-way audio systems.
At a time where increasing energy prices are becoming a hot potato, greater home automation helps the homeowner improve their energy and water efficiency. Rather than have the heating or air conditioning on when it isn't needed, smart systems can identify users' habits and behaviors and make sure that the home is cooled or heated only when it is necessary. Not only does resource consumption efficiency improve, but users also save money.
However, many people have yet to embrace the smart home technological revolution because, in part, they perceive the technology as being too technical and beyond their comprehension. This concern is being addressed by manufacturers as the technology is becoming easier to use and interface with.
Final Words
Another problem with these technologies is security and smart home data. Already, stories have emerged in the media where smart home devices have been hacked, such as baby monitors and security cameras. Hackers could conceivably hack someone's alarm system and disable it, their cameras to see if someone is home, or they could access someone's network and gain access to their data. For example, in 2016, the Mirai IoT botnet was able to enact a DDoS attack by using security cameras and routers to bring down parts of the internet.
Data privacy is also another major concern. Smart devices collect and share data on homeowners' activities, which has called for greater transparency on how manufacturers use this data beyond better tailor-made services and products on offer. The burgeoning influence of Big Data means more and more information is being collected on homeowners' behavior and placed in the hands of corporations and governments.
Follow TodayTechnology for more!