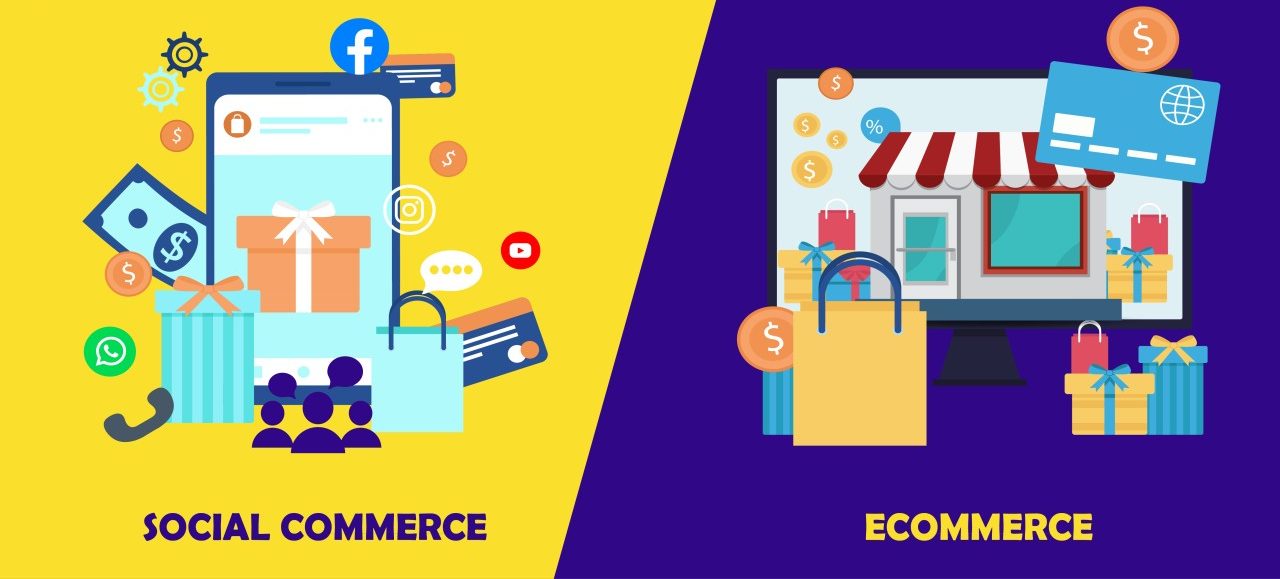 M-commerce (i.e., making purchases directly from our mobile device) may be the new frontier for online shopping in 2021 and beyond. But why are we shopping more on mobile now? Mobile wallets, Google Pay apps, and social commerce have a lot to do with it. In fact, Hootsuite claims social commerce is on track to become a $600 billion+ market in the next seven years.
 The pandemic changes the whole online market. It has a lot to do with online products. The companies and different online sellers have made it easy to purchase the products online. Due to the quick shipping and discounted rates, more and more customers moved to online commerce to buy their favorite products. 
The online sellers like Amazon and Alibaba have outpaced every shipping possibility. Now, the shipping is being done within the minimum time and maximum efficiency. 
Social Media Impact
With social media buy buttons, users are either making purchases directly within social apps or can navigate to an outside site to complete their purchase. Any active social media users know the deal: you see a product you didn't even know you needed, you click on the buy button, you purchase. In a matter of clicks, conversion is that easy. 
The Convenience of social shopping is one factor, but so is the "social" aspect of shopping from our phones. Buying something online plays an important role because the easier to buy a product is the more customers will go and buy that product. The indoor amount of different products on social media apps and services has made it even easier impossible for a common man. The users who find a cheaper product online always go to buy it online rather than going to market and buying it physically. The pandemic has changed many things, and e-commerce is one of them. There is a great moon in the e-commerce industry because of the pandemic because people try to avoid COVID-19 these days more than ever. 
The governments of many countries are making it possible to buy something online rather than going to market. The technology boom and rapid shipping rate have increased e-commerce value. We see influencers endorsing the products we love or collect product feedback from our followers via Instagram stories, and suddenly our decision to buy specific items is validated. Seeing others vouch for the items on our radar certainly impacts our buying decisions, whether we know it or not. 
According to a new SimpleTexting survey of 1,000 U.S. consumers, 70% of people admit that they're more likely to buy an item supported by user-generated content, and 50% have made anywhere from 1-10 purchases directly from Facebook or Instagram within the past year. Not only that, but younger generations are more susceptible to this mode of shopping. Survey results showed that 83% of Gen Zers shop much more impulsively on mobile than desktop.
So what are users buying most on mobile? Groceries, health + wellness products, furniture, and games seem to be the big-ticket items, according to the survey. Between 2019 & 2021, mobile shopping for product categories like groceries/food, games/sports, and furniture/interiors grew by 25%, 18%, and 9% respectively. If we look at the sales, the people are buying everything that they basically need. Includes all the products from different sellers in different product makers. The product range widely and can be from $5 to thousands of dollars. So this is a general increase in the overall production of online commerce. 
Social to E-commerce 
All things considered, there's money to be made within this digital marketing channel. Smart marketers are leveraging social shopping's untapped potential as social media buy buttons on Instagram, Facebook, and Pinterest start to account for more and more online purchases. 
Let's move to the question very basic question that is social commerce is the new commerce or not. It is very obvious and simple to understand that social commerce is the new commerce, and everything that is promoted and being placed on social media is much more available to the users as compared to offline marketing. The technology companies are preferring what they would have meant on social media as compared to the actual advertisement that is done traditionally.
This new social commerce has many advantages for users and also the industries and suppliers. The suppliers and industries are known to accessing their customers directly, and there is no involvement of third parties. The companies advertise their products on social media, and customers buy from those companies directly. Because there are fewer parties involved, so the price of the product is less; this is not only benefiting the product suppliers and manufacturers but also the customers. It is a win-win situation for everyone.
Conclusion
The conclusion of all the discussion above is that social commerce it's definitely the new form of e-commerce.
Follow TodayTechnology for more!