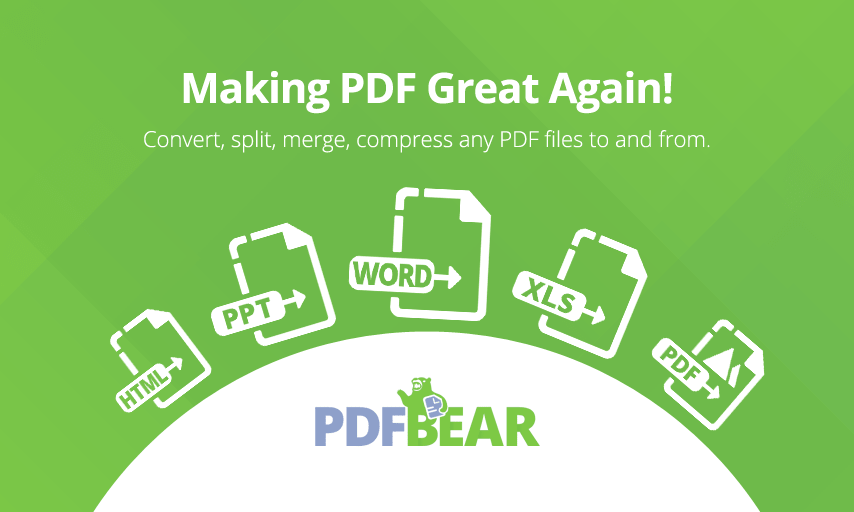 PDF Bear is a handy software that can lend a helping hand to anyone who wants to combine or even split their PDF files. If you are new in using PDF Bear, this article will provide brief instructions on how you can perform a PDF merge and split. With that, here's how you can split or combine your PDFs.
How to Split PDF Files?
The PDF split and merge features are essential when you are handling tons of PDF files. The PDF splitting function of PDF Bear will help anyone separate documents or extract PDF pages into individuals and turn them into new PDFs. With that, you can create new and individual PDF files from the original PDF file.
When you do this process, always remember that there are a couple of functions when using the PDF split. Users can either extract different pages from their original files or split their PDF files into separate pages. So here's how to split your PDF files using PDF Bear:
Select a PDF file or perform the "Drag & Drop" technique and place the file you wish to split.
By selecting the pages, choose those pages that you wish to split from its original PDF.
After selecting your desired pages, refine those pages by tapping them and transform them into different PDF files.
After the three steps, the separated PDFs are ready for the users to download or share.
How to Merge PDF Files?
If you want to conveniently merge your PDF files, use the PDF Bear's combining tool. The service that the PDF Bear offer is not one-sided because after you combine your PDFs, users can still use the compressor, converter, and other handy tools in handling your PDF files. Using the PDF merging tool will only take you a few clicks to combine all the needed individual PDFs, and after that, you can start using the merged PDF version.
It's the quickest and easiest method in merging multiple PDFs into one PDF file. The instruction that it will provide is simple and straightforward, and after less than a minute, you can share or download the file. Here are the simple steps on how to merge your PDFs:
Choose the document or Drag the PDF that you need to merge using PDF Bear.
The PDF merging tool will start combining your PDFs after you modify them.
Start modifying the necessary PDF files. After that, start pressing the "Combine!" button.
Starting downloading the merged PDF to your computer or share that file on your Dropbox or Google Drive.
Advantages
Free and Efficient Merging and Splitting Tools
With PDF Bear as your tool for merging and splitting your PDF files, it's more efficient and convenient. Performing the splitting and merging process won't be challenging because, in a few clicks, the merged and separated PDFs are ready to download and share. To add to that, using PDF Bear won't cost you anything compared to other expensive and complicated software that you have to purchase before using.
Web-Based Platform
PDF Bear is a web-based software that anyone can use for free. With that, as long as users have laptops, smartphones, tablets, or computers, they can access PDF Bear's merging and splitting tools anywhere around the world.
Safe and Secure to Use
Since PDF Bear values its users, this software will take care of your documents to secure them. Its system will remove all of the uploaded and download PDF files after an hour. This process is crucial because you need to make your files stay private and confidential from those unwanted individuals.
Takeaway
The splitting and merging tools of PDF Bear will help you manage your files so that you can easily use them. Aside from those features, users can also use PDF Bear to convert, compress, rotate, repair, unlock, and even protect their PDF files. This software is also recommended, and many people are using it every day.
Check my website for more article today technology