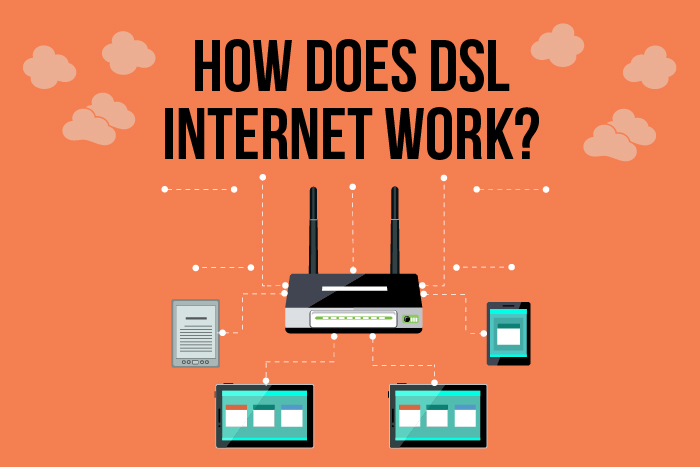 Digital Subscriber Line (DSL) internet appeared in the late '80s as a new way to help improve the internet connection. Using a telephone line for high-speed digital data transmission service can be delivered simultaneously with wired telephone service on the same telephone line since DSL uses higher frequency bands for data. On the user's premises, a DSL filter on each non-DSL outlet blocks any high-frequency interference to enable simultaneous use of the voice and DSL services. This technology was an improvement over the old dial-up connections, which were extremely slow. Currently, DSL internet is still able to suit the needs of most users, especially for home use, due to the low cost of installation and maintenance.
How DSL Internet Works 
The weakness of a dial-up connection comes from its use of analog telephone equipment, not the wires used for phone lines. DSL digitally transmits data over regular telephone lines and therefore allows for much higher data transfer speeds. Unlike a dial-up connection, which is available to anyone with a phone line, DSL requires your phone company to install special equipment. A telephone line is a pair of wires that lead from a home or office to an extension.DSL equipment must be installed on the extension to provide DSL service to all lines that connect, and therefore the line with this type of service never passes through analog switches. DSL performance is heavily dependent on the length of the local loop. The more wires, the greater the signal degradation, and if the speed is not reduced, too many errors occur for the connection to be useful. Therefore, the closer the home or business is to the switch, the better the DSL will perform. 
Types of DSL Technology 
There are two main types of DSL internet technology. The most common is ADSL, or asymmetrical DSL, and the other type is symmetrical DSL. You may also have heard about VDSL around too. Here's more of each one of them:  
Asymmetrical DSL (or ADSL)

: The most popular type of DSL connection. Most people download more information than they are uploading. Because of this, an asymmetrical connection has more downstream bandwidth and less upstream bandwidth.  

Symmetrical DSL

: Symmetrical connections offer equal bandwidth for upload and download speeds.  

Very high-bit-rate DSL (VDSL and VDSL2)

: Both types of VDSL are faster than Asymemetrical DSL. VDSL2 can reach speeds of 100 Mbps or even faster.
Best DSL Internet Providers 
DSL service is one of the most widely available ways to get internet at home, with 90% coverage in the United States. Currently, there are about 902 DSL internet service providers (ISPs) in the US market. A lot of these companies have roots as landline phone companies and have changed to offer internet service.   
Most of the smaller Digital Subscriber Line companies are "Baby Bells" that resulted from the separation of AT&T in the '80s. DSL companies offer high availability and low pricing, but speeds range and overall value can vary. Here are the best Rural Internet providers that you must have check out: 
Frontier — Best for Who Hates Hidden Fees 
Frontier is the best for those who want low pricing. The plans are priced a little low than other providers and the equipment fees are included in the monthly price. Others Frontier's advantages are:  
Price starting at $38/mo.  

Download speed: up to 115Mbps  

Upload speed up to 3Mbps  

Availability of fastest speed: 10%  
AT&T — Best Availability  
Though the company no longer offers 100% DSL service to new customers, AT&T internet is still available to more users than any other provider. Others AT&T's advantages are:  
Price starting at $45/mo.  

Download speed: up to 100Mbps  

Upload speed: up to 10Mbps  

Availability of fastest speed: 40%  
CenturyLink — Best for Transparent Pricing 
Although CenturyLink doesn't have the same massive availability as AT&T, it does offer service in more states, 36 compared to AT&T's 22. Also, CenturyLink has the Price for Life Guarantee, with this you don't have any surprises when it comes to pricing. Others CenturyLink's advantages are:  
Price starting at: $49/mo.  

Download speed: up to 140Mbps  

Upload speed: up to 40Mbps  

Availability of fastest speed: 27% 
Is DSL Right for You? 
Unlike dial-up, DSL uses a separate part of the phone line, so you can access the internet and use your phone at the same time. For many customers, not having to share a line to a central office is an advantage. Also, this is often the cheaper choice between all the other types.   
Until today, it is prevalent broadband in many places in Europe. DSL speeds are somewhat limited but can still be up to 40x faster than dial-up. Plus, your speed will always be steady, whether you have two or two hundred people connecting to the network. 
Pros 
Widely available throughout the US. 

Highly affordable internet option. 

Direct connection from ISP to residence allows for no slowdowns during peak times. 
Cons 
Slower speeds than other wired options. 

Connection quality depends on the distance between the residence and ISP. 

Above-ground cables can experience disruptions due to weather and storms. 
DSL vs. Cable Internet
DSL is best for: 
Light to moderate internet use 

Fewer internet users and connected devices 

Lightweight internet tasks such as checking email or web browsing.
Cable is best for: 
Heavy internet use 

Multiple, simultaneous internet users and connected devices 

Streaming high-definition video, taking part in multiplayer games and sharing large files 
How to Get DSL Access 
To get DSL access in your home or workplace, you need to follow a few steps.  
Check availability: Verify that DSL is available where you live. To learn about the providers in your market, Pick your plan: Choose a plan that meets your need for speed and works with your budget. 

Evaluate equipment needs: You need a modem and a Wi-Fi router for DSL internet.   

Set up service: Schedule installation or self-install the equipment, set up your Wi-Fi network, and connect your devices. 
Follow TodayTechnology for more!