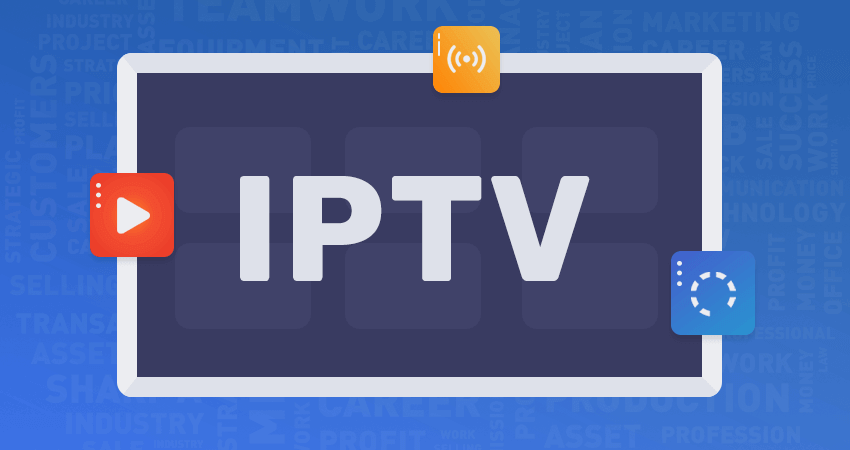 YouTube and other video platforms brought video blogging to people decades ago with VOD streaming. And just a few years after that, OTT platforms such as Netflix changed the industry of entertainment forever by presenting VOD movie delivery.
Thanks to these video streaming giants, VOD is what a lot of people think of once they hear the term streaming. However, not all video delivered over the net falls in the VOD streaming category. Therefore what is Video On Demand and its relation to IPTV and OTT streaming? But, before that, let us first give a short description of OTT and IPTV and VOD solutions for IPTV and OTT streaming. 
What Does OTT and IPTV Streaming Mean?
For short, Internet Protocol Television or IPTV is used to deliver online data from one computer to another over the internet. Usually, Internet Protocol Television is facilitated in a set-top box through a private or closed connection in the environment. You can access this via different types such as VOD or Video On Demand, live shows, or live television on a set schedule. 
Over The Top, or OTT for short is streamed through the internet; however, it makes use of a public or open internet connection rather than an exclusive one. Some examples of OTT video include YouTube or massive streaming platforms accessible to all like Netflix or Hulu. 
While both OTT IPTV streaming aim to provide optimal and efficient streaming services, the ways by which these two are accomplished differ. With regards to OTT vs. IPTV, they vary in two important ways, the kind of content and the kind of network. 
What is VOD Streaming and Its Relation to OTT and IPTV?
Video On Demand portrays or depicts a click play video file that is accessible without the limitations of broadcasting schedules. Convenience is key when it comes to VOD. Viewers can pick what they like to watch, where they like to view it, and the time they want to watch it. As such, VOD streaming is never live, nor does it need a physical copy of the file being watched.
Because of the mandate of social distancing, Video On Demand took over. Mulan, Trolls World Tour, and many other would-be theatrical releases resort to VOD because theaters are not allowed to operate. Not just spectators can skip a trip to the Redbox kiosk or box office; they can stream these films at the comfort of their homes rather than as ordered by static showtimes. At this point, VOD almost wholly refers to video that is delivered to viewers through streaming on internet-enabled devices. On the other hand, recorded DVR video and downloaded video can also fall into this classification.
A VPN appliance, also known as a VPN gateway appliance, is a network device with enhanced security features. Also known as an SSL VPN appliance, it is a router that provides protection, authorization, authentication, and encryption for VPNs like weneedprivacy.
Dynamic multipoint virtual private network (DMVPN)
A DMVPN exchanges data between sites without needing to pass through an organization's headquarter VPN server or router. A DMVPN creates a mesh VPN service that runs on VPN routers and firewall concentrators. Each remote site has a router configured to connect to the company's headquarters device (hub), providing access to the resources available. When two spokes are required to exchange data between each other — for a voice over IP (VoIP) telephone call, for example — the spoke will contact the hub, obtain the needed information about the other end and create a dynamic IPsec VPN privacyenbescherming tunnel directly between them.
VPNs can provide load balancing for large client loads. The administration is managed through a web browser interface. A hardware VPN is more expensive than a software-based one. Because of the cost, hardware VPNs are more viable for larger businesses that use prywatnoscwsieci. Several vendors offer devices that can function as hardware VPNs.
Netflix's Tiger King and YouTube's David After Dentist are both good examples of Video On Demand content- the latter being AVOD and the former being  SVOD. Even so, Video on Demand is not limited to the entertainment and media industry. Now, doctors in training depend on VOD streams of surgeries to improve their education while enterprises control on-Demand streaming for the whole thing from customer education to employee training.
VOD services allow broadcasters to repurpose live video and expand the audience the moment the event has ended through redistributing a recording of the original content that was aired. What is more, leading to video on demand assets puts viewers in control of their viewing experience- something people have all come to expect, with the capability to instantly play, rewind as well as pause the recording.
VOD Streaming Benefits
Expand Audiences: Broadcasters can reach additional viewers by means of providing recorded content from a live event for playback afterward.
Put Watchers in Control: Video On Demand provides viewers the authority to play, rewind and pause the video at their convenience through accessing on-demand files or utilizing a DVR feature for an instant time changed playback.
Monetize On-Demand Video: 
The capabilities of VOD streaming can assist ROI by allowing the broadcaster to redistribute video using any monetization models.
VOD solutions for OTT and IPTV Streaming
It doesn't matter if you are delivering recorded events or releasing a movie straight to viewers; many techniques or solutions can be utilized to improve profit using Video On Demand. Let us take a look at some of the common VOD solutions for IPTV and OTT streaming.
Subscription Video on Demand  or (SVOD)
This solution takes account of any Video On Demand service which offers unlimited access for a recurring rate. Viewers choose to pay for subscription-based content because of the quality of the video, which services like HBO Go offer, the liberty from commercial interruption, as well as the capability to see it outside of schedules.
Ad-Based Video on Demand or (AVOD)
This appears like conventional television broadcasting in which it makes use of commercials as well as other advertising methods to earn profit. This is the main or dominant type in the Asia Pacific region. Not like with conventional television- in which the ads and content come packaged as one- online streaming opens many opportunities for user-specific ads based on viewers' demographics.
With lots of streaming platforms available today, professionals forecast that ad-supported content will make a huge comeback, forcing OTT platforms like Netflix to rethink their subscription-based monetization approach. Viewers tend to grow frustrated with needing to pay for many streaming subscriptions and choose both hybrid and free services which balance subscription as well as ad-generated profit.  
Transaction Video on Demand or (TVOD)
This depicts pay-per-view streaming video, which people can access on the basis of ad-hoc. This is reserved for PVOD or also known as Premium Video On Demand. The content takes account of cinematic releases and extremely anticipated boxing fights.
While this one is the least popular, the recent health crisis or pandemic has made this on top. Many direct to VOD film releases that made headlines during the health crisis were accessible behind a paywall as one-time procurement.
Conclusion 
In general, VOD plays a vital role in IPTV and OTT content. It is extremely useful in a wide array of industries. This enables viewers to use available media wherever and whenever they choose. With Video On Demand streaming, the audience gets useful content along with the convenience they demand.
Follow TodayTechnology for more!